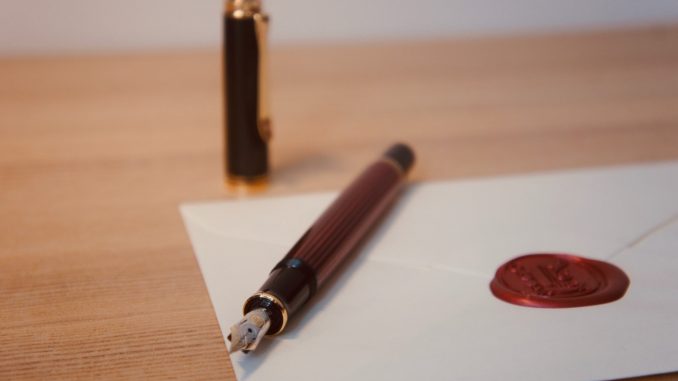 It is an evidence that the fountain pen has been in use for many decades. Its first patent was registered in 1827 by Petrache Poenaru, an inventor of Romanian origin.
Over time, the fountain pen has undergone several changes and has gradually become a luxury product, a rarity for sybarites or a protocol gift, but the fact remains that it is still the preferred medium of people who prefer to give a superior calligraphy to their writing ability.
One can use it for a period of time without damaging one's hand or fingers. The most important quality of a fountain pen is that the writing looks smooth and delicate and is less susceptible to forgery.
The most appreciated and therefore more expensive fountain pens live for many years and are beatuful to the eye. They are an important part of your lifestyle.
A classic fountain pen in a shirt pocket or coat also denotes a symbol of the owner's status, personality and social standing.
These are the top fountain pen brands by volume of purchase and superior quality
1) Mont Blanc
If you are looking for good fountain pen brands that have a classic appeal and look timeless, then you need go no further than Mont Blanc, as it guarantees to last for decades because its style is ubiquitous. The brand is credited with launching several models, slightly different from each other, to give each of them a distinguished look.
Mont Blanc is the definition of a premium luxury brand and its legend goes back to 1910. This German name counts with unique products and is part of the company Richemont, Cartier International .
The Mont Blanc pen is unique in nature and is in great demand due to its calligraphy quality, millimetric design and regal look. Hugh Jackman has been associated with this brand since 2014 as an ambassador.
2) Parker
Today the famous Parker brand offers a wide variety of fountain pens, rollers and ballpoint pens, to meet the diverse needs and styles of users. Each Parker pen has been designed to provide a unique smooth, fluid, elegant and pleasant writing experience.
Parker is a renowned brand of luxury and affordable ballpoint pen that was founded in the year 1888. It is an American based company that has been associated with several key models such as Vector, Reflex, Urban and Frontier.
Any fountain pen designes by Parker will last many years at a great condition, even if you write regularly with it.
3) Cross
The Cross fountain pen is a sight to behold as the brand has put due emphasis on details. The products are a work of beautiful craftsmanship, making them an instant hit with the younger generation as well as the older and more affluent ones.
A.T. Cross Company is a US-based luxury pens company founded in the year 1846 by Richard Cross. This iconic fountain pen brand has partnered with innovative instruments to create better writing facilities.
Since the 1970s, the Cross brand has officially supplied its pen to the White House in the United States. Most U.S. presidents, including Bill Clinton and Ronald Reagan, have used it to sign legislation.
4) Pelikan
Pelikan was a German company founded in the year 1832, but later re-established itself after its bankruptcy. The brand has been credited with its fountain pens such as Future, Cartridge Fountain Pen and Pelikano.
Pelikan offers a wide range of products in terms of price range, colors and pen size for collectors and beginners. It has introduced special models for school and university students that are easy to use and within its price range.
Pelikan fountain pens are lightweight, durable and affordable. The brand has retained the essence of its origin and continues to manufacture its products with cellulose acetate. Each pen is unique and reliable and offers a tight grip and smooth ink flow to its users.
5) Sheaffer
Fountain pens are Sheaffer's specialty. The very creation of the brand in 1913 was based on a patent related to fountain pens: the lever system.
And throughout these more than one hundred years it has continued to reinvent itself to offer customers the highest quality in its fountain pens. He has brought to the world of fountain pens inks, charging devices and designs of great importance in the market.
The white dot that shines in most of his creations is the sign of identity and distinctive by which its high quality is recognized.
6) Waterman
The manufacturer of fountain pens and other writing instruments, Waterman, is a paradigm of innovation and design in writing, which is why it remains one of the leaders in the fountain pen market since 1883.
Waterman was born thanks to an invention. Invention that was patented in 1884 by the creator of what later became one of the most important writing firms in the world: Lewis Edson Waterman.
Since the beginning of the 20th century, the company positioned itself as a leader in retractable pens, lever and pouch pens, pens with a glass cartridge and later with a plastic cartridge… Many of these fountain pens continue today in the world markets of writing instruments. .
Its fountain pens are a benchmark for their design and excellence. Imagination, design and elegance.
7) Sailor
For lovers of fountain pens, Japan is synonymous with handcrafted nibs, pens with precision-turned bodies and care in the manufacture of each unique piece in the world.
At inktraveler we are specialists in Japanese fountain pens and we bring you the most representative pens from Sailor, Pilot/Namiki, Ohashido, Platinum and Eboya, five of the Japanese firms with the highest quality work.
8) Faber Castell
Faber Castell is an integration of elegance, class and affordability. It is one of the oldest fountain pen brands in the world and was founded in the year 1761 by Kaspar Faber. Some of its most popular models are LOOM, MINDORO and AMBITION.
A wide selection of designs, excellent quality, firm tip, smooth texture, good grip and a polished look are some important features of Faber Castell that make it a household name in the fountain pen industry.
Faber Castell is a brand of German origin that has product presence in more than a hundred countries around the world. In 2013, it was awarded "Trusted Brand" in the pen and pencil category by Reader's Digest.
9) Aurora
After the Treaty of Versailles, in an Italy marked by the postwar period, in 1919 Aurora was born in Turin, eager and hoping for a new dawn, hence her name. From that year Aurora grew and its quality came to compete with fountain pens from England or the United States.

To have a distinctive Aurora began to use celluloid as a material to make their pens. During the second world war the aurora factory was bombed and it was forced to move its headquarters to the north of Turin. After this bump, his most famous fountain pen appeared, the "Aurora 88", inspired by the "Parker 51" which, curiously, is the one he competed with.
Given the unstoppable advance of the ballpoint pen used by students, the Duo Cart was launched, which incorporates the ink cartridge to facilitate its use. In the 1960s, the company was bought by the Verona family, which is still the owner today.
In the 1980s, Aurora launched the Marco Polo and Magellano series, made of gold and silver. Today Aurora releases series of limited editions related to continents such as Europe, Africa and Asia.
10) Lamy
The Lamy Safari is the best-known fountain pen of the Lamy brand, but this German manufacturer manufactures two other models of pens that are practically the same as the Safari: The Lamy Vista and the Lamy AL-Star. Let's see how these fountain pens differ.
The Safari is Lamy's best-known and best-selling fountain pen. Its cylindrical ABS plastic body, its triangular handle, its ink window, its ease of refilling (using a cartridge or plunger converter) and its wide variety of colors are the reasons for its success.
It is a pen with a very pleasant writing feel. The ink flows very easily and Lamy sells it with a wide selection of nibs, including special models for left-handed people and for calligraphic writing.
11) Pilot
Pilot is a Japanese-based company engaged in items related to writing and the art of oriental calligraphy, such as fountain pens. This joint stock company operates through its headquarters in Tokyo, Japan. Pilot is the largest manufacturer of fountain pens in Japan and faces stiff competition in the overseas market.
Its products are known for their smooth handling and gorgeous appearance. A Pilot pen has incredible balance, smooth tip, secure grip, large ink capacity and elegant design. Some of the most coveted Pilot models are Pilot Custom 823, Pilot Kakuno and Pilot Plumix Italic.
In 1964, the company launched its new Capless product with a fully retractable nib. This very popular fountain pen was relaunched as Pilot Vanishing Point in 1972. The brand also offers beginner fountain pens such as The Pilot Metropolitan, which creates perfect, smooth lines with a fine point. These come in three color options of black, champagne and silver.
Where to buy fountain pens online
Although a fountain pen can cost hundreds of euros or even thousands of euros, depending on the materials it is made from, we are not always talking about a collector's item worthy of display. There is a very wide market and a very diverse buyer profile by purchasing power and age.
That is why large online stores like Amazon have entire categories dedicated to the world of writing that you can see here. We are going to recommend several trusted websites where you can buy luxury fountain pens at affordable prices. You have to think that many of them end up revaluing over time if they are well preserved.
The Pen Shop have an inventory in stock of more than 500 fountain pens among which are some of the brands we have talked about and others that we will cover later, such as Cerruti or Hugo Boss. In addition, you can also choose colors and finishes and they range from 10-20 euros up to more than 1000 euros for the Classique Le Petit Prince Montblanc
Over 30 popular pen brans on offer and constantly renewing its inventory. Pretty impressive for a 100% online store that sells way more than luxury pens.
Imitation and second hand pens
This is a little known market because fountain pens are already, in themselves, a rarity used by antique enthusiasts and passionate collectors of the world of handwriting.
But you can still find cheap luxury imitation pens, at very competitive prices, on mainly Chinese websites such as Alibaba.
The Mont Blanc are the most replicated, by far, but we must know how to differentiate well so they do not sell us something that is not original as if it were. If we differentiate it and we still want to buy the replica, it is up to us.
How to know if a fountain pen is an original one
You must make 4 checks:
Compare each specification with the original product website.
Analyze closely, with zoom, the emblem or logo of the brand to find differences.
In the case of the Montblanc, when a powerful light is pointed at it, the flashes of the golden parts are brighter than in an imitation.
Compare the serial numbers on the pen itself.