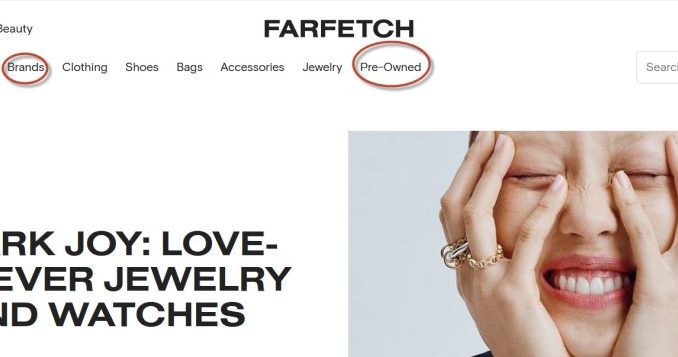 FarFetch is an online luxury fashion retailer that offers a wide selection of designer clothing, shoes, and accessories from over 3,000 brands. The website caters to a global audience and ships to over 190 countries.
First of all, let's specify that this is not a website of Chinese origin, like most of the replica wholesale shops we briefly mentioned at Todolujo. But since it has many aspects that can be related and compared with Asian giants such as SHEIN or Zaful or even Taobao, It is worthy to have a deep look at it.
Farfetch User Reviews
Once we've described in detail how FarFetch works, it's time to hear what real users have to say about their shopping experience. We've go through their opinions at https://www.trustpilot.com/review/www.farfetch.com and we recommend you to go do the same. So that we aim for transparency, you will find both positive and negative quotes.
Positive comments
Many users praise FarFetch for its extensive selection of high-end fashion brands and unique, hard-to-find pieces. The website is well-organized and easy to navigate, making it easy for shoppers to find what they're looking for. Many users also appreciate the fast and reliable shipping, as well as the excellent customer service.
One user wrote, "I love shopping on FarFetch. They have a great selection of designer brands and unique pieces that you can't find anywhere else. The website is easy to use and the customer service is fantastic."
Another user said, "I recently purchased a handbag from FarFetch and the process was seamless. The website was easy to navigate, the customer service was helpful, and the shipping was fast. I would definitely shop here again."
Negative comments
While many users have positive experiences shopping on FarFetch, some of them have had issues with the pricing and the authenticity of certain items. Some other also report that the website's search function could be improved and that it can be difficult to find specific items.
One user wrote, "I found the prices on FarFetch to be quite high, even for designer items. I also had concerns about the authenticity of some of the items I was interested in."
Another unsatisfied user said, "I had a hard time finding what I was looking for on the website. The search function could be improved. Additionally, I found that some of the items were overpriced."
Detailed Review of FarFetch in Youtube
On a professional level, the impressions of Youtubers who are experts in testing and analyzing top-level brands, such as Seth Fowler, break down very well the immense range of items that Farfetch offers us: from Farfetch
How to shop on Farfetch
There are several ways to receive the orders you place on https://www.farfetch.com. First, you can have them shipped directly to your home. For example, customers in the United States who spend at least $250 on an order will receive a single shipping price, even if they order from multiple carriers.
Second, consumers can also use the "Click and Collect" option. Simply enter your city or a local Farfetch partner in the specified field while checking out. From there, you can select a pickup location for your order that is in your city. This type of convenience is rarely available in other than the most well-known e-commerce sites. It might be a good option for you if the item you're buying is already in a store in your area.
In addition, Farfetch currently offers an interesting payment plan option called Afterpay to customers residing in Australia and this will soon be expanded to other countries such as Spain, Mexico or the United States. It allows Australian residents to make purchases on Farfetch without paying in full for their order right away. Instead, they can shop today and pay in four equal payments that occur every 2 weeks. Even better, you won't pay interest with this payment option.
Frequently Asked Questions about Farfetch
Is Farfetch reliable?
Yes, Farfetch is definitely a legit company. With over 500,000 shopper reviews on the Farfetch website and a 4.7/5 rating, it's clear that customers are using Farfetch and like what they're getting.
How much does Farfetch shipping cost?
Farfetch's shipping costs will vary depending on the size, weight and destination of your order. However, customers can qualify for almost free shipping if they spend more than $250 on a single order.
Does Farfetch offer refunds?
Yes, Farfetch will provide you with a refund as long as you return your items to them within 14 days of original delivery.
Does Farfetch offer payment plans?
The company currently only offers Afterpay financing to customers residing in Australia.
Can items be reserved on Farfetch?
No, Farfetch wants to make sure every customer has a fair chance to buy in-demand products and limited items so items cannot be reserved.
What makes Farfetch prices special?
The prices you see on Farfetch are determined by the company's luxury brand partners. They also vary based on the location of the item and your location at the time of purchase.
Pros and cons of Farfetch
Pros
An incredible selection of luxury items.
A generous refund policy
Unique Pricing Policies
Luxury options in second-hand clothing
Retail Locations Worldwide
Cons
Limited availability of Afterpay
There is no way to receive free shipping
Average Farfetch Score: 4.7 / 5