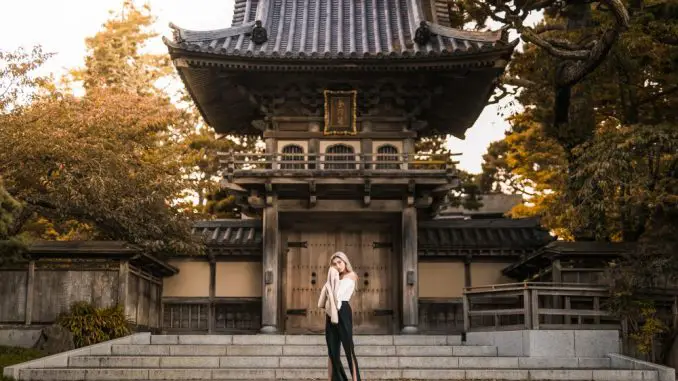 Believe me when I say that it's not that easy to get things online in Japan, but don't worry; I'll take care of it: read on for my best Japanese clothing stores and save yourself the time of research and comparison.
Who doesn't like to go shopping? I know you do, as long as you get the opportunity to buy a new pair of shoes or a nice blouse, I won't pass it up. From physical purchases or in street markets to virtual online purchases. And you probably don't want to miss out on good opportunities either.
With technology taking over the modern world, brands all over the world are taking their products to the web, creating web pages or using social media like Instagram to get their name out there. Online Japanese clothing stores are not far behind, making things easy not only for sellers but also for customers.
With a plethora of global fashion stores why shop specifically at Japanese clothing stores? Simple: For exclusive products and designs that are only sold in The Land of the Rising Sun.
How do the Japanese prefer to shop?
There are now more possibilities for direct contracts between suppliers and large retailers, some of which maintain their own purchasing departments. However, in general, it is a system in which long-term relationships of trust between the agents dominate, based on the following principles: strict adherence to delivery deadlines, the supply of very precise quantities and the high value of after sales services.
Hence, the exporter needs to find a suitable importing partner or distributor based on the target audience and the place where he wants to sell the product. The most important choice is, as in other markets, that of the importer-distributor partner. Relations in Japan develop slowly, but they are born to last based on mutual trust, which is consolidated as operations are repeated.
Local presence is, in many cases, an element that greatly facilitates success in the Japanese market. Implementation and maintenance costs are high, but often necessary to enter and remain in the market profitably and in the long term.
Digitalization of fashion in Japan
Recently there has been a change, especially with the younger generation taking more and more authority in the fashion industry in Japan, as well as more and more purchasing power. The online community, including social media, is such an important part of everyday life for young people in Japanese culture that it makes sense to introduce the concept of online clothing stores to your Japanese market.
With big-name brands taking the first step, many other Japanese brands are following suit. There are even websites that take on the role of intermediaries to provide an online transaction space for brands that are not yet digitized.
Why buy from Japanese online stores?
eCommerce in Japan: one of the three largest markets in the world
First of all, we should start by noting that eCommerce in Japan is the third largest in the world – only behind China and the US – and one of the fastest growing. The growth rate has been lasting in recent times, with a stable annual evolution of 9% in the last 3 years.
As collected by the Statista platform, the forecasts until 2024 indicate that this progression would slow down in the next 4 years, although it would remain constant and in positive numbers.
eCommerce in Japan, one of the most attractive for new online retailers
In any of the cases, and focusing on the present, there is no doubt that eCommerce in Japan represents a great opportunity for any online retailer who plans to do business in Japan.
For example, in addition to enjoying a highly advanced economy, Japan has a predominantly urban population and a unique language that make it one of the most attractive markets in the world.
Without forgetting that it has a developed distribution infrastructure, since the small size of the country makes the delivery of products purchased online easy and convenient.
A powerful eCommerce in an advanced society in digital terms
One of the big reasons why eCommerce in Japan works so well is because we are talking about one of the most digitally advanced societies in the world. In other words, despite the fact that it "only" has around 119 million Internet users – 38% of Internet users in the US, for example – this figure represents 93.3% of the total population that exists. in the country (127 million).
Clothing represents around 70% of the internal purchases in japan, so it's now now time to get into the top 10 online Japanese clothing stores you can also buy from:
The best Japanese clothing websites
First of all, we have the famous Japanese lifestyle fashion brand that offers casual wear pieces, Uniqlo.
Every item they offer, from basics to new collections, are timeless pieces that you can wear right now and ten years from now. That is the beauty of this brand. They are proud of the classic aesthetic.
However, the brand is not stagnant. It is constantly expanding its categories and business deals. The latest collaborations include Walt Disney, famous artists, and local talents like anime illustrators to produce every piece of clothing on the rack, including graphic tees.
Not only that, but Uniqlo is also famous for its superior quality. The dedication to providing only the best is evident in their products. You won't see a drop in quality in any aspect; the fabrics are always soft on the skin; the designs are constantly innovating; comfort has always been the key.
Being at the forefront in terms of being one of the first Japanese brands to go online, Uniqlo loves being number one. Of course, the brand ships domestically in Japan and, depending on where you are in the world, Uniqlo also ships internationally.
YESSTYLE is a top place to acquire cheap fashion products with above average quality. It actually stays up o date in terms of latests urban fashion trends. The best thing about this website is its price, all the items on offer are super cheap and it even sells cosplay items at a great price. It has international shipping, so be sure to check their ecommerce for more information.
MUJI is widely known for its quality products at low cost. Although the clothing selection isn't as wide as others, here's one reason why they're going mainstream in the fashion industry: They're completely transparent about where their clothes are made, and all of their clothes are eco-friendly.
For example, some of their products are made from cotton from a healthy field, which gives them a soft and comfortable texture. One of the most versatile products are t-shirts knitted with coarse coconut threads, which fit perfectly in winter.
Dghate offers you the best collection of japan at a very good price. In fact, it is the best place to get wholesale Japanese products. It has a variation of clothes especially for girls, such as hollow tops for nightclubs, ethnic clothes, regular t-shirts, and you can also find traditional and ancestral clothes. The truth is that they have everything. Along with the clothes, it also has the matching accessories of all kinds.
Mina no Kimono has a physical store on the street in Barcelona, ​​but on its website you can buy all kinds of Japanese outfits, from kimonos or haori and haori-himo to yukatas and obiage, including geta and setta. Both for men and women as well as accessories and other products.
Something that unites the online world with the offline world is that they offer the option of taking courses to learn how to dress or do Japanese sewing. They even have workshops on ceremonies and Japanese sweet cooking.
We are talking about a marketplace oriented to both B2C and B2B, and that since its foundation in 2013 has opted for mobile as the main channel. Estimated monthly trafficis ~ 100 million monthly visits.
There are two Mercari shopping sites: the Japanese and the American. If you want exclusive items from Japan, it's in the Japanese Mercari. Unfortunately, the vendors for each do not intersect, so it is unlikely that the products will be able to ship internationally.
Kawaii Lover is a website specialized in "Japanese aesthetics" aimed at the female audience. Both for teenagers and young girls who are passionate about otaku and manga style.
They have an interesting variety of clothing for tops and bottoms, as well as bags, shoes and accessories.
A unique feature is that they sell kawaii drawings of kittens and unicorns as well as stuffed animals.
Kawaii culture to power!
It may seem counterproductive to include one of the most famous Chinese clothing stores on this list, but AliExpress Japan is still one of the best alternatives to compare prices, since many manufacturers and other stores (like the ones we mentioned) also sell within of your marketplace.
Founded in 1998 as a catalog sales company (Start Today), it evolved to become one of the largest eCommerce specialized in clothing and footwear. Estimated monthly traffic: over 60 million monthly visits.
You may need a friend able to read Japanase because Zozo's site is stil only in that language. But it will pay off because you can find genuine japanese clothing, even replicas, otherwise you will find in the other sites in this list.
Amazon Japan is like Rakuten in a way. The Japanese version of Amazon is one of the most famous e-commerce sites in the country and offers products that are only available here. It's also great for getting one-of-a-kind apparel from resellers and manufacturers at affordable prices.
However, not all Amazon Japan sellers offer international shipping, but most do! So don't get discouraged just yet; make sure you set the filter on Amazon Japan to "international shipping" before you start browsing. You can limit your list of products, but it's better than nothing.
Now that you have the best shopping list of Japanese clothing stores online, what stops you from taking your credit card now and browsing the websites of all these brands? You still end up with a hole in your pocket, but a satisfied and happy heart.
Sayonara baby!
If you are interested in the fashion of other cultures and want to know how they dress and which websites are the most famous, take a look at: